Indoor League Winners, 2010
Neyland retain the Indoor League in 2010, defeating both Whitland and Haverfordwest on the final weekend to finish with a perfect 6-0 record.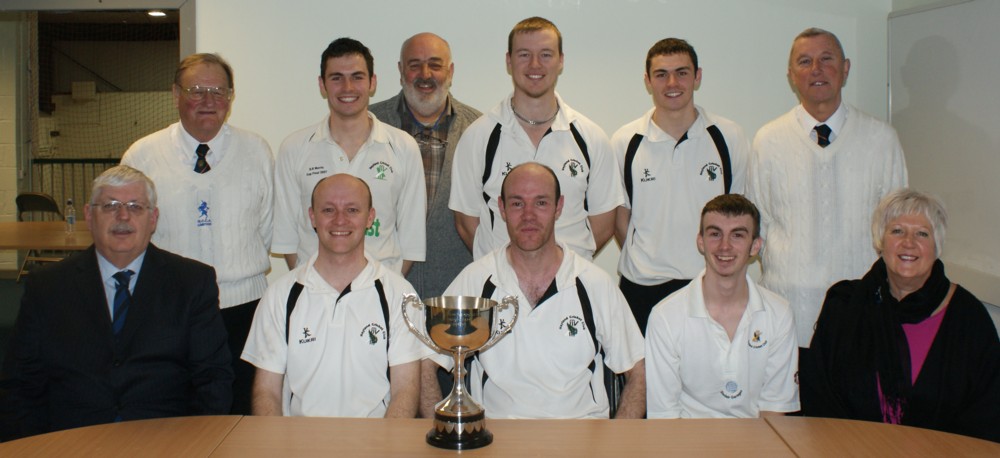 Back Row (left to right):
John Williams (ump), Patrick Hannon, Bill Carne, Paul Murray, Sean Hannon, Alen Hansen (ump).
Front Row (left to right):
Trefor Evans (Chairman PCCC), Andrew Miller, Gregg Miller (c), Nicholas Koomen, Wendy Bradshaw (org).
Also featuring for Neyland during the 2010 league but absent from the above was Paul Miller.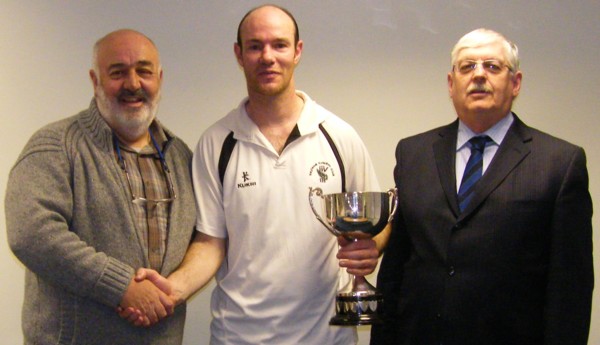 &nbsp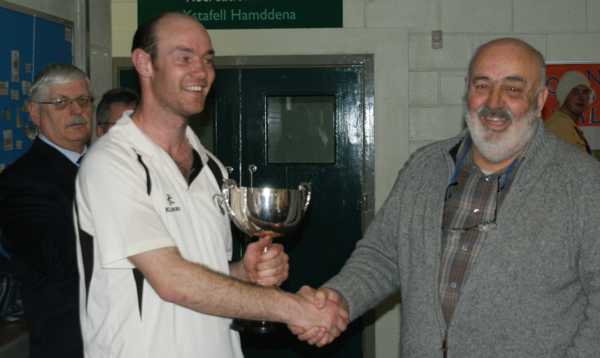 Bill Carne Presents the cup to captain Gregg Miller, with PCCC Chairman Trefor Evans also in attendance.


&nbsp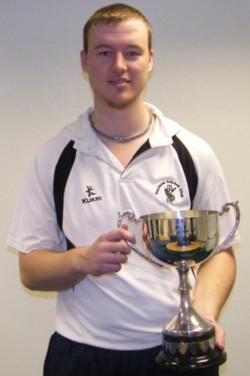 Henry Durrant gives the other paparatsi evils as he prepares the camera for the action shots. &nbsp&nbsp&nbsp&nbsp&nbsp&nbsp &nbsp&nbsp&nbsp&nbsp&nbsp&nbsp Unofficial 'Player of the tournament' Paul Murray



| | | | |
| --- | --- | --- | --- |
| Neyland | 6 | 6 | 12 |
| Cresselly | 6 | 5 | 10 |
| Haverfordwest A | 6 | 4 | &nbsp8 |
| Pembroke Dock | 6 | 4 | &nbsp8 |
| Whitland | 6 | 4 | &nbsp8 |
| Haverfordwest B | 6 | 3 | &nbsp6 |
| Saundersfoot | 6 | 3 | &nbsp6 |
| Carew | 6 | 2 | &nbsp4 |
| Hook | 6 | 2 | &nbsp4 |
| Fishguard&Goodwick | 6 | 0 | &nbsp0 |
| Lamphey | 6 | 0 | &nbsp0 |


&nbsp&nbsp&nbsp Game 1: Neyland 113-5 bt Lamphey 66-5. [Paul Murray 45no, Nicholas Koomen 30, Andrew Miller 23 & 2-12]

&nbsp&nbsp&nbsp Game 2: Neyland 126-2 bt Haverfordwest B 72-5. [Paul Murray 37no, Nicholas Koomen 25no, Sean Hannon 22no]

&nbsp&nbsp&nbsp Game 3: Neyland 139-4 bt Hook 53-5. [Paul Murray 32, Andrew Miller 32no, Nicholas Koomen 23]

&nbsp&nbsp&nbsp Game 4: Neyland 131-3 bt Saundersfoot 75-6. [Paul Murray 54no, Andrew Miller 26no, Patrick Hannon 35no]

&nbsp&nbsp&nbsp Game 5: Whitland 50-6 lost to Neyland 51-1. [Paul Murray 15, Gregg Miller 27no & 2-15]

&nbsp&nbsp&nbsp Game 6: Haverfordwest A 101-4 lost to Neyland 103-1. [Paul Murray 29no, Gregg Miller 23, Andrew Miller 25no]




Neyland retained their Indoor League title with excellent wins over what are traditionally the other two best sides in the competition, Whitland and Haverfordwest A, on the final weekend.
Neyland won the toss in the opening game against Whitland and elected to bowl first. With a new ball with pronounced seam, the Neyland bowlers immediately caused the Whitland batsmen problems. Gregg Miller removed Matthew Davies thanks to an excellent catch from wicket keeper Paul Murray. With three off and one leg side fielder Davies top edged a manufactured scoop to leg and Murray sprinted across the hall to catch the rebound. Mark Lee and Paul Davies then had a productive partnership for Whitland, before Mark Lee was run out by a direct hit from Andrew Miller for 17. Paul Davies then gloved one behind to Murray and sportingly walked, at which point Whitland were in all sorts of trouble. Ed John hung around for a while, but was run out by another direct hit, this time from Paul Murray, and none of the last three batsmen ever got going. Patrick Hannon held a good catch at gulley to remove Jon Thomas and Whitland were all out for a very disappointing 50 when Andrew Miller caught and bowled the final Whitland batsman.
Neyland were soon up and running with Paul Murray and Gregg Miller both looking to get on with things. Gregg hit two straight sixes and both batsen picked up a few good threes as they progressed to around 40 off only four overs before a slight mix up saw Murray run out. Gregg retired on 27no, and Andrew Miller and Nicholas Koomen saw Neyland home with plenty to spare.
The win ensured that only Neyland could win the trophy on the day, as all other sides in the league had now lost at least one game, albeit a Neyland loss in the final game could yet see a play off between Cresselly and the team to win the next match.
In the second game of the afternoon Haverfordwest A just edged out Whitland in a thrilling encounter. Haverfordwest opted to bowl first and Whitland posted a reasonable total of 109. Haverfordwest started well but then sank a little and when Huw Scriven was the fourth man out, bowled, Haverfordwest required around 33 runs from the last 3 overs with only 2 wickets remaining. However Nigel Delaney and Danny Field batted very well to win the game for Haverfordwest. Delaney regularly dropped the ball onto the wall at cover for 3, while Field took a more aggresive approach to the run chase, and they finished on 40no and 31no respectively.
So to the final game, with Haverfordwest knowing a win for them could yet see them involved in a play off for the trophy, despite a shock loss to Pembroke Dock in an earlier round. Neyland won the toss and again elected to bowl first, though the ball had by now lost its seam and was providing no movement. Dai Davies started strongly, but Delaney, having top scored in the previous game was sent back and run out by a direct hit from Andrew Miller. Davies quickly reached 25 to retire, but Danny Potter took a long time to get going. Potter did eventually reach 25 to also retire, but Josh Wilmet was run out from another direct hit from Andrew Miller. Danny Field again hit the ball hard but may have been more effective working the ball around. Huw Scriven worked the ball to leg well from outside off in the final couple of overs to give Haverfordwest a chance with a total of 101.
The scene was therefore set for what looked to be a very interesting finish. Gregg Miller and Paul Murray again opened the batting and immediately hit the 10 per over target run rate. Gregg again struck two sixes, but it was Murray who reached 25 first with a couple of powerful fours to add to the 3's that both batsmen ran well. Andrew Miller then joined Gregg, and they put Neyland into a strong position before a little hesitation from both batsmen saw a throw by Davies from the back wall run out Gregg at the far keepers end. However this was not to be the start of a Haverfordwest comeback as Andrew worked the ball to leg well to swiftly reach 25 and retire, and Nicholas Koomen also looked in good touch, bringing Neyland home comfortably in the end with over an over to spare.
All in all this was a very good display from Neyland, they batted, bowled and particularly fielded well all afternoon, and with a perfect won 6 lost 0 record were worthy champios again, following up a similar success the previous season in 2009.